The 1001 Emotions new collections from Roberto Vicentti has proposals of groom suits from which you'll be very gentleman on your wedding day or that celebration for whom you were invited. We want to show you black groom suits in which you'll present a perfect style on a special occasion.
The first detail that must be taken into account when choosing the suit perfect to fit your personality and one that makes you feel both cozy and radiant. This is what we want to achieve with our Eternal, Wedding, Trend and Special Edition models, designed and manufactured with just one goal: convey emotions and represent different personalities. In these four collections we've included different patterns, distinct designs and colors so that each man can find the suit that fits him perfectly. Between them, you can find black groom suits and the ones we show you are our favorites.


Wear black on your wedding day
One of our favorite models is one from the Eternal Collection. It's a black tailcoat, plain and manufactured in wool fabric, perfect for a morning wedding. The peak label jacket with one button has a printed waistcoat on a lighter shade and four buttons. We must not underestimate the tie and the pocket square. A sensational selection to say "Yes, I do" on a daytime wedding.
Another of our Roberto Vicentti's Models is this black groom suit in wool and lycra fabric. It's composed with a peak lapel jacket and one button that contrasts with a raw vest of 4x4 buttons, cravat and pocket square. Without any doubt, a sensational option for a black groom suit to highlight an afternoon wedding or even an evening event. It's from the Eternal Collection, for the adventurous man and grooms for which friendship, fellowship and adventure are overlapped.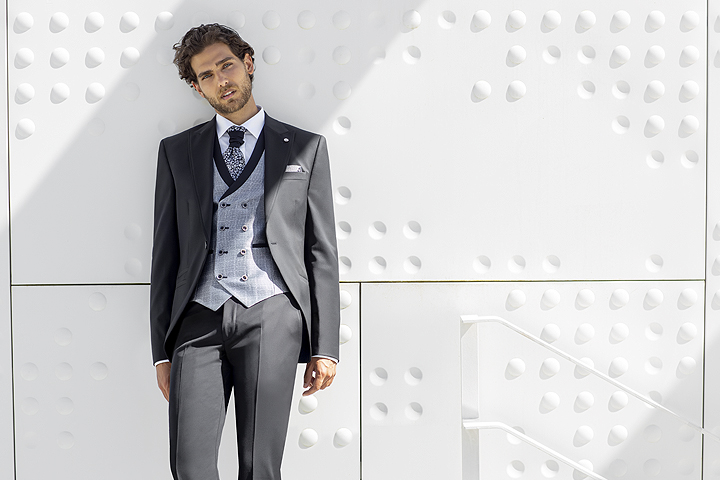 The third propostal we present you belongs to the Wedding collection, inspired by romantic grooms. This set is actual, versatile and attractive: black groom suit with micro designs, manufactured in wool lycra. The jacket has a peak lapel and fastens with a button. The jacket is complemented with a 4 button waistcoat, cravat and pocket square. If you're a man for whom love, family and friendship are your main values, it's your best option. Wear this elegant piece that will adapt your figure and personality.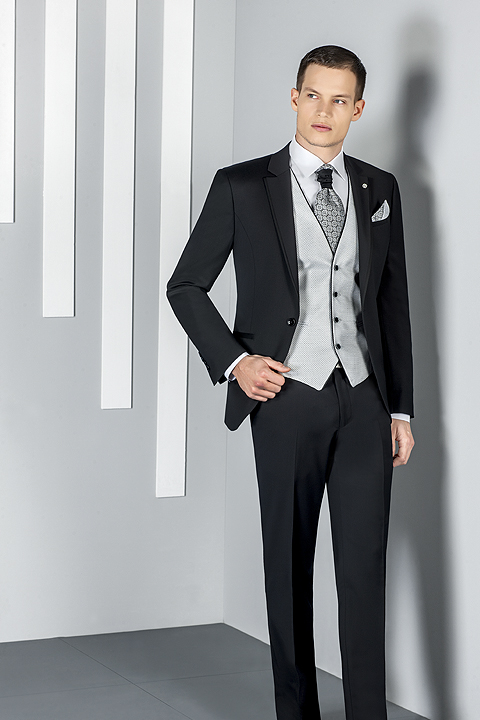 The last suggestion we have for you is from our Wedding collection: a black groom suit in micro designs and manufactured in acetate wool. The jacket is very elegant, embodied by a peak lapel and a single button. The waistcoat offers brightness to your look and has 4 buttons. The style is complemented with a one pocket square and cravat.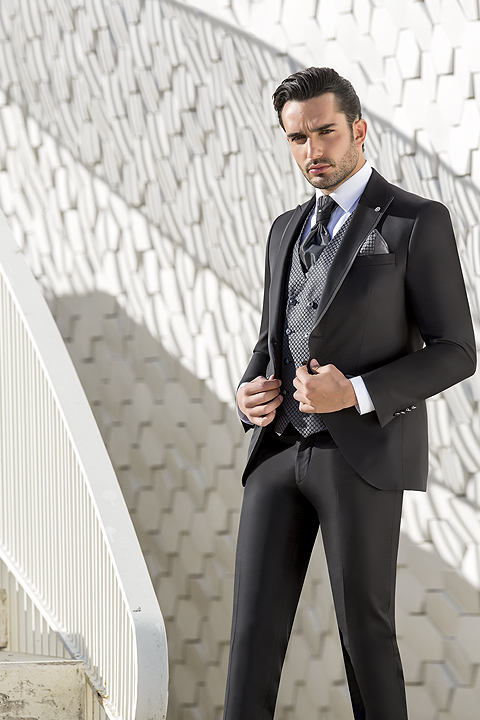 Which black groom suit best suits your personality? Find the emotions that each suit arouses you.