Soft colors, natural fabrics, outdoor spaces, candles and flowers in pastel shades are some of the elements that characterize the so-called boho chic weddings, a style that has increased its strength in the nuptial scene due to its romantic, relaxed and special touch. This is a trend that brings back the vintage concept to the 21st century, with elegance and at the same time, with a carefree attitude. It will delight you if you are looking for an event with personality, distinction and capable of making your guests fall in love. Are you ready to discover the secrets of these unique weddings? Keep reading…
The so-called boho chic is a style that has gained more and more followers, perfect for couples with a free spirit who are looking for a wedding with class and personality. Outdoor venues are the protagonists of boho weddings. These sceneries offer a stunning environment and allow playing with lighting and decoration, integrating a natural environment creating an intimate and mysterious atmosphere.
Discover the delight in celebrating your special day with wild details such as a private garden, a vineyard, the shore of a lake or an astonishing forest, enjoying that touch of mystery which is so characteristic of this kind of weddings.
In a boho-style wedding, the layout of the elements is beyond the conventional concept. The traditional round tables in the banquet, with classic tablecloths are replaced by rough timber boards, where the natural materials gain strength and harmoniously unite with the entire decoration. Candles, chandeliers, handcrafted details, soft colored tulles and flowers in pastel shades become unique centerpieces that produce this surprise effect for all guests.
If you are an adventurous couple, always wanting to escape the routine and let your imagination fly, boho weddings reflect this passion for travel and memories. Their typical decorative elements transport us to the past, such as family photo frames, baroque chandeliers, leather bags and even the classic chester sofa, used in many cases as a photocall where the moment is originally immortalized.
Lighting enhances the romantic effect in boho weddings and is a vital aspect that adds charm and personality. Light garlands are the most common element, creating an intimate atmosphere as it merges with the vegetation. LED curtains are most common as an accessory, perfect for decorating entire walls, or even some neon with a personalized message. The result in both cases is magnificent.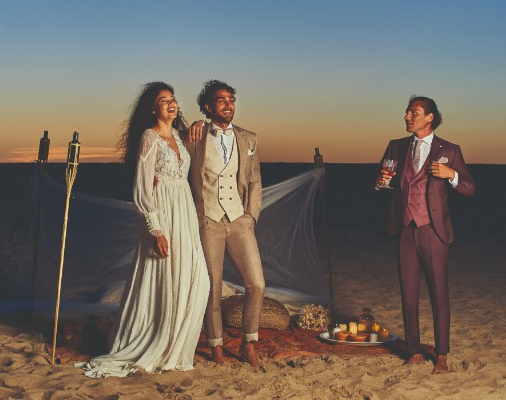 As far as bridal fashion is concerned, the so-called boho concept in groom's suits has its origins in French artists of the 19th century. It is a style characterized by comfort and freedom, designed for an alternative and carefree groom who takes precedence for his naturalness before everything and seeks his true essence through his nuptial outfit. Natural and light fabrics are very suitable for this style, as well as unstructured suits in soft colors and vintage-style accessories such as bows, suspenders and even hats for the most daring couples.
Are you surrendered to boho style?