Timeless elegance, with that modern touch that characterises the contemporary man. Collections full of meaning and message. Colourful, versatile, inspiring... The groom claims his personality with innovative designs that maintain the classic spirit, but seek to enhance the individual essence. Because every man is unique.. In the following post, discover some of the main trends in wedding suits for the next 2023.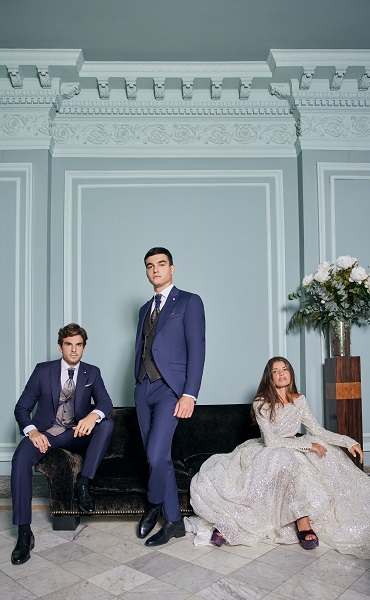 Dressing is a language that is expressed even more forcefully in the important moments of life. Bridal fashion is increasingly diversifying its proposals, adapting to the reality of the moment, where there is no single male prototype, but each man seeks to assert his own personality through his style. The collections are based on this branching of lines, always linked to a strong message that provides meaning and serves as a pattern with which he identifies. Like a mirror in which the groom can be whoever he wants to be.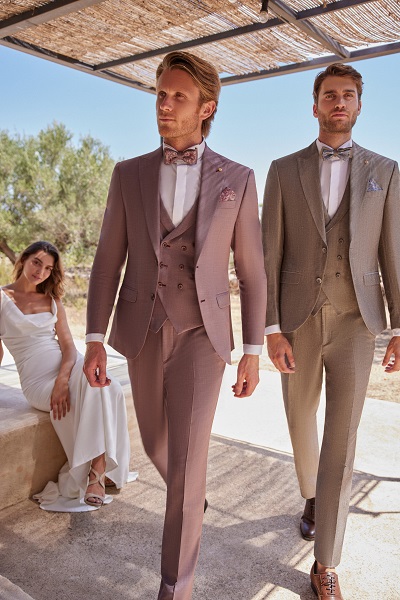 Nature is still present in the 2023 groom's suit collections, highlighting pastel shades, from old pinks to sky blues, from mint and dry greens to earth and sand tones. All of them in natural fabrics such as linen and fresh wool blend, sometimes with a more rustic look. This fusion with mother earth portrays a natural groom committed to the planet, who seeks beauty without artificiality.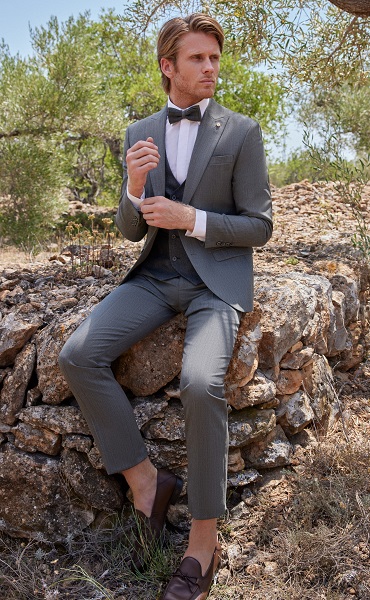 Stylized silhouettes make a strong comeback in 2023, an ode to modernity and masculine sensuality, with innovative textures and prints coordinated with imperceptible geometries. Textured micro-mosaics and jacquard-effect touches combined together create an exclusive style with a certain naive touch. Also on the rise are avant-garde trends that give the utmost importance to the smallest detail. A search for perfection that makes textile creations resembles true artistic pieces, combining different and eccentric matrixes.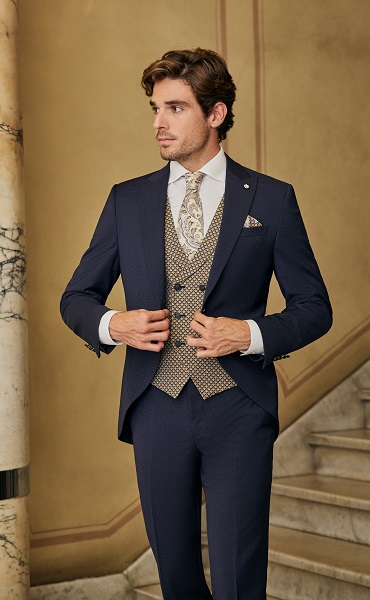 The blue palette continues to star in the groom's suit collections for 2023, from the most open to the greys, from deep navy to the most vibrant and surprisingly textures. Combined in turn with shades of green and brown, perfectly mixed and arranged, they become an imaginary artistic reproduction that invites you to let your imagination run wild...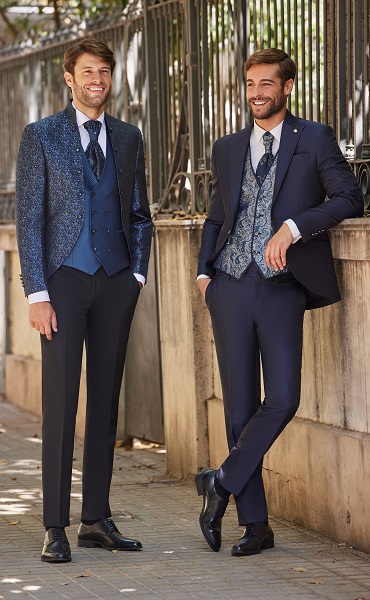 Traditional looks are disguised in an enigmatic and sensory way, with micro designs full of ingenuity and proposals that convey a delicate extravagance and fantasy. Contrasting textures and colours, a sequence of tones and innovative materials are in fashion. This 2023, unpredictable and open to imagination, where each groom is faithful to his essence; where diversity is the real key to be and to dress. And you? Do you join the trend to enhance your authentic personality?