Autumn is a magical season to celebrate, for its colours, its peculiar weather, and the romanticism it conveys. We leave behind the heat to enter the coldest months of the year, in a unique transition that still allows us to organize outdoor weddings and wear warm and sophisticated outfits. This season evokes a special palette of colours that combines perfectly with the landscape and its unique sunsets. Do you have an autumn wedding coming up and need the inspiration to choose your perfect groom's suit? This post is for you.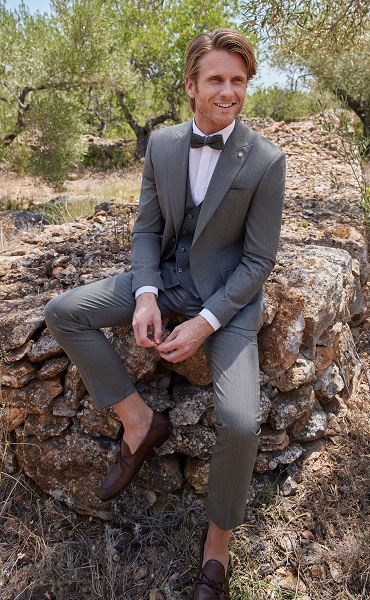 Originated from autumnus, whose Latin root is augeo, "autumn" refers to the arrival of fullness, balance, harmony and new beginnings. It is that long-awaited time of the year, between the incipient cold and the warmth that still lingers and gives rise to wonderful evenings outdoors, before the temperatures, and daylight hour's drop. Preparing a wedding in autumn can turn it into a fairytale event, with its wonderful scenery, its balanced atmosphere, and its special magic...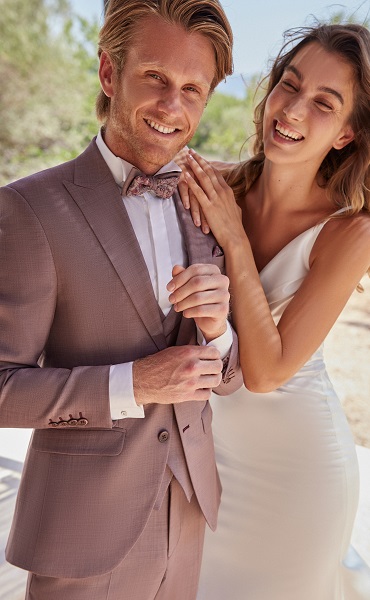 Leaving aside its more dreamlike side, autumn is, on a practical level, the favorite season for many brides and grooms, as they tend to prefer to get married in a cooler season, to better deal with the cliché that "the suit is usually quite hot". The truth is that the current collections also contemplate weddings in intermediate weather seasons, offering versatile proposals, suitable for their fabric and colour.
To bring an authentic autumn wedding to life, the different elements that make up the wedding must be in unison and convey the true essence of this season. In deference to being the first to arrive at the altar, the groom will set the style of the celebration with his attire, so choosing the right suit to match the theme is a must. Pay attention!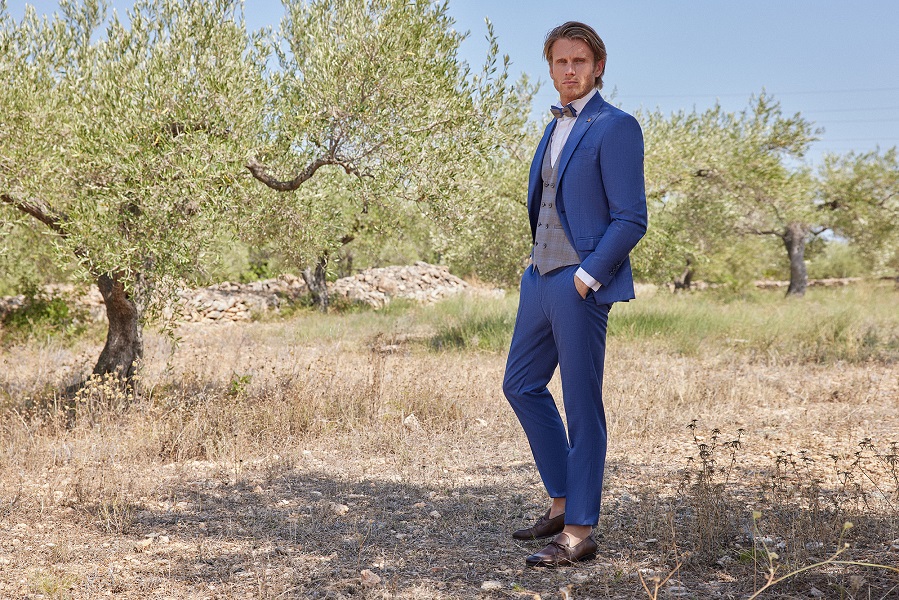 Trends in colours and fabrics for autumn weddings

Autumn brings us days when the natural light becomes soft and warm, creating that idyllic ambience, where everything seems to look special, including your wedding suit. Earthy and sandy looks are ideal, as well as palettes in rich tones and creamy textures.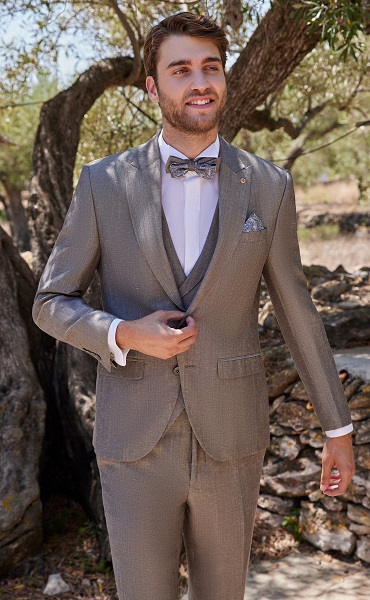 The classic grey and navy blue tones are on trend this season, without forgetting the different shades of blue, from the most open to the darkest, specifically deep navy or almost black greys, brushed by warm greens and maroons. Combine grey and navy blue or even greyish blue in the same look and go for a charcoal grey or blue suit, especially for daytime weddings.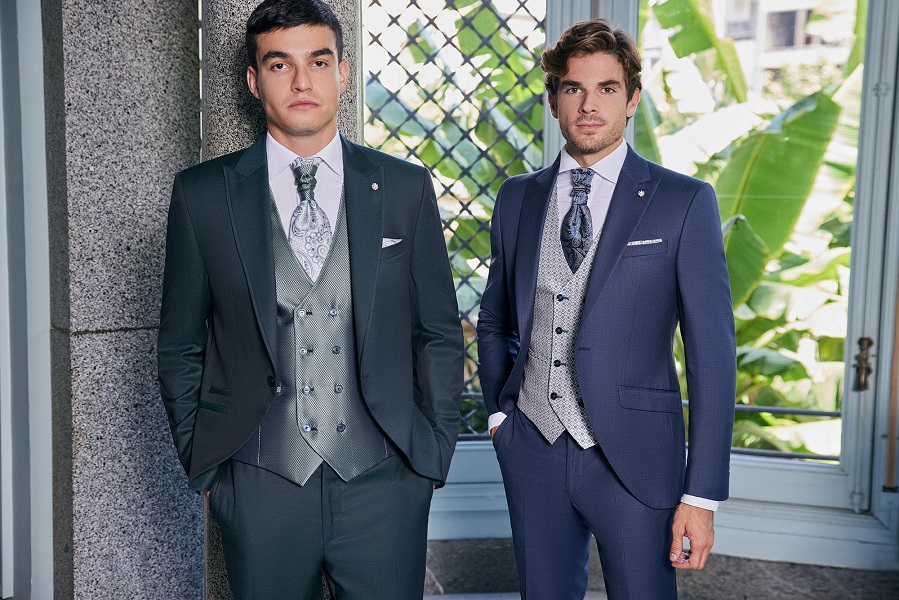 Autumn is the ideal time to opt for a three-piece wedding suit, so you can play with the accessories and give them prominence, as they tend to draw attention to the bridal attire. Choose an ochre or golden tie or even one in bottle green and a waistcoat in ochre, golden or orange tones. In terms of fabrics, suits made of linen and fresh wool mixtures with a rustic look will be perfect, and for the more daring, the printed proposals with micro designs in warm colours will be perfect.
It's time for decoration...

There are so many great ideas for an autumn wedding that we wouldn't know which one to choose. The suggestion is to opt for a specific colour palette and follow the thread throughout the decoration. You can decorate your wedding with a combination of green and pink, giving it a naive touch or even mix pastels with gemstone colours, such as magenta or emerald green. Other popular options include orange, peach and plum shades, as well as shades of purple, grey and blue. If you prefer a more relaxed look, choose neutral colours and decorate in copper tones, a basic colour, but with a surprising impact.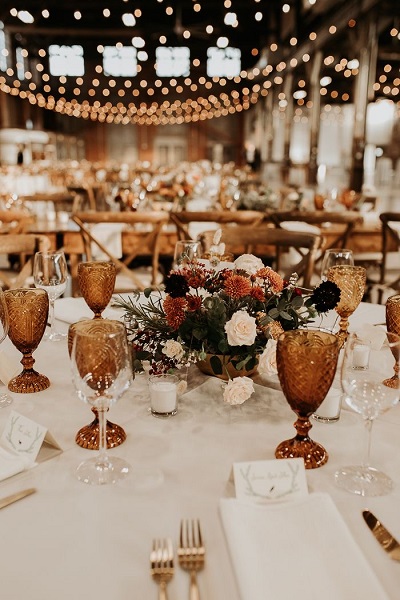 Decorating an autumn wedding is versatile and adapts to any type of theme, whether informal or elegant, rustic or modern. You can opt for an event in the forest, a brunch- style celebration, or a wedding in a glass room to enjoy the sunset. Decorative elements in ochre and brown colours as a base will be perfect, as well as all those that fit in with rural environments, such as vintage tableware and furniture made of natural fibres.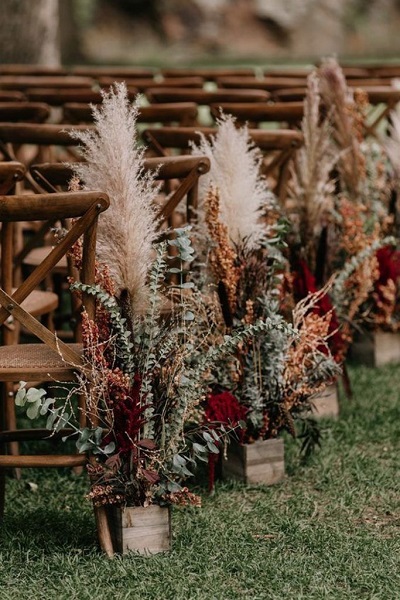 For a different twist, incorporate fruits such as mandarins, grapes and classic pumpkins into your decorations and complete it with touches of moss, wheat and dried leaves. A good menu with seasonal foods will give your wedding a unique and genuine touch that everyone will remember. Ready to organise the perfect autumn wedding?