Colourful weddings are a trend that is making a huge impact on the bridal panorama. Nowadays, brides are no longer the only ones who innovate when it comes to choosing colours and styles. A rich and striking universe of stylistic possibilities opens up before your eyes for you to be the centre of attention. Break away from stereotypes and join the vibrant atmosphere of your big day, adding your dose of style and personality to the event. If you're looking for a groom's suit for a colourful wedding, this post is for you. Stay tuned!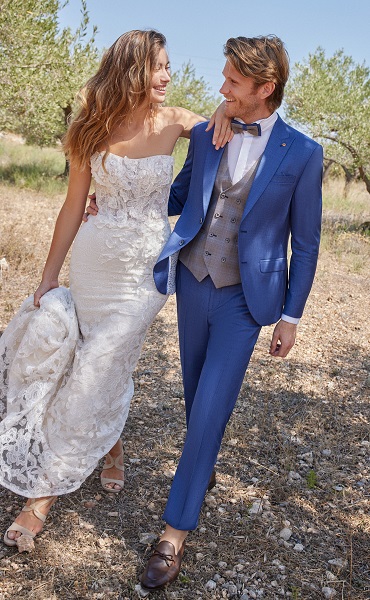 Do you want to go for colour in your wedding suit and at the same time look elegant and fashionable? Bridal fashion collections surprise us more and more with endless possibilities to innovate in terms of colour, presenting multiple shades that transgress the traditional, navy blue, black or grey. Look for your essence and dare to explore the wide range of colours available, to find the one that best expresses your essence. Here are some ideas.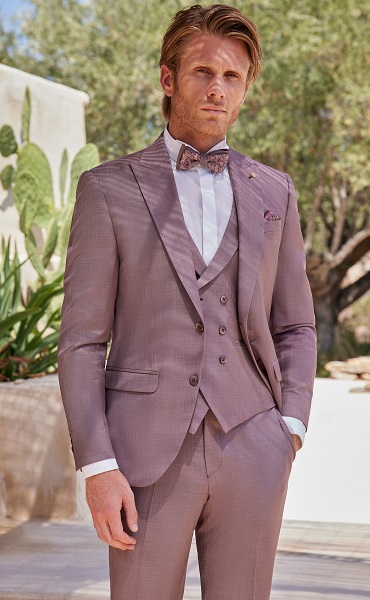 Wedding suits in pastel shades are a perfect choice for a wedding full of colour. An outfit in light tones such as sky blue, pale pink or mint green will give you fresh, romantic and youthful aspect. Choose them especially if you are getting married in spring or summer and combine them with accessories in a darker shade to balance the outfit. Linen is the best alternative for pastel colours to shine at their best. Choose it and get a relaxed and cheerful look that will not leave anyone indifferent.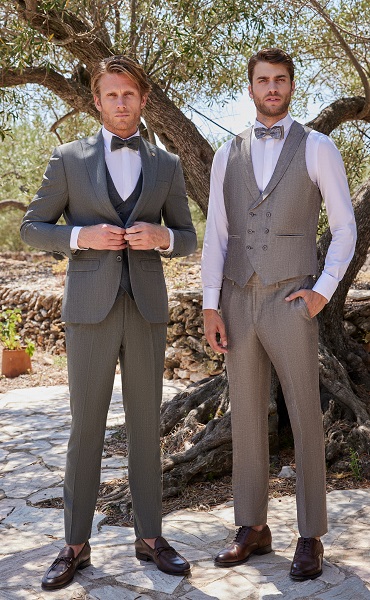 If you are a daring groom and you want to go for colour in its maximum intensity, go for vibrant colours such as Klein blue, red or emerald green. With them, you will bring a touch of energy and personality to your outfit and you will be the centre of attention. Don't forget to balance the look with accessories in neutral and soft tones, to always maintain elegance.
Going a little lower on the colour scale are earth tones, such as brown, camel or beige. They are ideal for an autumn ceremony and their neutral base allows you to combine them with eye-catching accessories, looking a modern and casual air. Choose them if you want to innovate and achieve a colourful style, without losing discretion.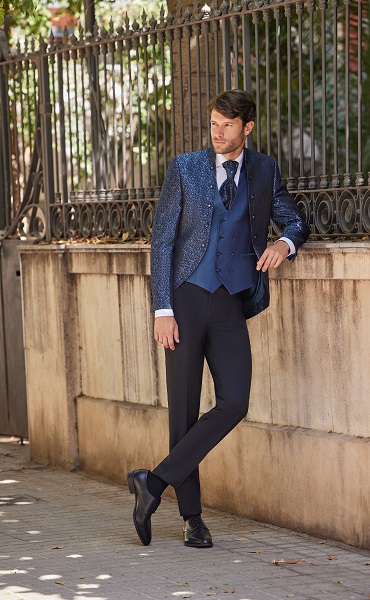 Printed suits are our final proposal to fill your wedding with joy and colour. Floral, geometric or striped, they will give you a sophisticated and stylish air that will set the trend. And if you want to resort to colour, but without leaving aside the traditional, play with a neutral base and bet on giving prominence to your accessories. A navy blue suit with an orange tie or bow tie, or a light grey outfit with lavender accessories, the possibilities are endless!
Dare with colour and fill your wedding with magic, charisma and joy. Don't forget to always look for the one that best suits your skin and hair tone and, of course, the one that best conveys your essence and your personality. Remember: the important thing is always the attitude. Enjoy!